"Safety First,
Quality & Service Second,
Productivity Third"
PPE Visitation Unit


If you need to install safety shields to comply with the government regulations during this pandemic, Lima Millwork can help. We can create them with safety glass or plexiglass. See the sample drawings below or contact Mark and we can create them to your specifications.
mniemeyer@limamillwork.com
419-331-3303
Ohio Department of Health COVID-19 Information
Lima Millwork is now AWI Quality Certified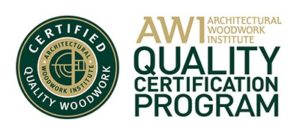 QCP Licensing Helps Woodworkers Succeed: Compliance, Consistency and Quality. Doing the job right the first time is essential in our business. We are equipped with the proper tools for success.
The AWI Quality Certification Program (QCP) not only provides a strong foundation, but it means that we deliver compliance, consistency and quality to our clients. Becoming a QCP-licensed woodworking firm and following the guidelines set out by QCP ensures that our projects meet the Architectural Woodwork Standards (AWS), AWI subsections as recognized by QCP, and other compliance and quality expectations. The process streamlines our efforts, helping us deliver excellence on every project.
Project Requirements Verification Certification included in our bid, ensures that all benchmark woodworking elements are verified and accounted for upon submission.
Woodworking Specification Compliance uses the industry-wide QCP stamp of approval. Architects, general contractors, and clients can proceed with confidence that our project will deliver results in compliance with the AWS and AWI sections.
Design professionals and building owners can move forward with confidence in the quality of our architectural woodwork on a project-specific basis.
Lima Millwork Inc. is a privately owned company that began operations January 1, 1983. We started with four employees and have now grown to twenty-six employees. In 1996 we built our new location in Elida, where we are still located today. Our company motto is "Safety First, Quality & Service Second, and Productivity Third."
Lima Millwork stresses the importance and value of our loyal customer base. We understand from the President of the company down, that the people responsible for our jobs are our customers.
We pride ourselves on having very dedicated employees and almost 0% turnover. The average length of service of our employees is 14 years, with many double that. Lima Millwork believes it is due to the loyalty and dedication of our employees that we were the proud recipient of the 2011 Small Business of the year from the Lima Chamber of Commerce.
Lima Millwork specializes in custom casework, with the majority of that work being for nursing homes and other medical facilities. We pride ourselves in high quality workmanship and longstanding relationships with our customers. Although we are based in Ohio, we travel throughout the country to install our custom made products.
Lima Millwork also builds and supplies residential countertops, ranging from laminate to solid surface, to cabinet shops and wholesalers. We are licensed installers and fabricators for Corian, Zodiaq, and other solid surface products.
Join the Family…
We are currently looking for new employees, preferably with some experience. See our Careers section for details.
Lima Millwork's primary work is supplying casework to various nursing home companies. This would include nurse's stations, reception desks, and custom cabinetry. Lima Millwork also provides similar products to hospitals and other commercial businesses. Lima Millwork also provides laminate, solid surface, and quartz countertops to wholesale customers.
Lima Millwork uses hardwoods, plastic laminate, high impact plastics, solid surface materials, hardwood plywood, and various other products used in casework applications.
GENERAL EMPLOYMENT OPPORTUNITIES
We are looking for craftsmen to fill the following positions:
Corian Fabricator
Out of Town Installer
Finish Technician
Excellent hourly wages
Family health insurance
401K
Paid vacation
Profit sharing
And many other great benefits